Telehealth Staffing Services
We assess the unique needs of your organization and create a customized service using our expert services to help you grow and excel clinically.
Recruitment

An extensive, nationwide recruiting network and proprietary technology applications support:
30 primary recruiters
Average 650 providers placed quarterly
Current enterprise recruiting rate 96%
Streamlined candidate experience powered by mySCP
Credentialing and Onboarding
Rapidly deploy new clinicians with streamlined onboarding via automated platform continuously monitoring:
License status
Eligibility
Sanctions reporting
Enrollment

Established payor relationships and patented scalable processes
Manage initial enrollment and revalidation for 7,500 clinicians
Proficient in managing enrollment for 32 states
Manage enrollment for 362 entities
Held A/R related to enrollment
Activities average 0.88% of gross revenue
Scheduling

Proprietary technology and in-depth encounter analytics allows for dynamic clinician scheduling:
Schedule nearly 10,000 clinician shifts per month
Facilitate 2M+ virtual patient visits per year
Documentation and Revenue Cycle
Financial Services
Our documentation and revenue cycle experts provide support with customized plans that meet your unique financial needs.  
End-to-End Revenue cycle services 

Comprehensive documentation practices 

Best-in-class billing and coding specialists 
More About Our Documentation & Revenue Cycle Solutions
SCP Health Partnership
Benefits and Impacts
Sustainable partnerships: Dedicated teams provide an agile and innovative approach focusing on scalability and flexible configuration. 

Gross Margin Enhancement: We lower staffing costs over time, institute efficient processes, and set up faster sourcing and onboarding. 

Performance & Outcomes: Our approach uses clinician-focused technology and tools to improve clinician satisfaction, consistent care, and patient experience. 
Partner with Us
Success Stories
See how our scalable telemedicine services have made a difference for SCP Health's current partners.
Dynamic Technology Support in a Telehealth Partnership
One of the nation's largest telehealth companies partnered with SCP Health to manage high-quality physician coverage through sourcing, recruiting, and scheduling clinicians to cover their daily volume, while also decreasing wait times and improving patient satisfaction.
Read Story
Telemedicine Resources
Our clinical experts and operational professionals develop and deliver telemedicine resources to educate and empower clinicians and health care organizations.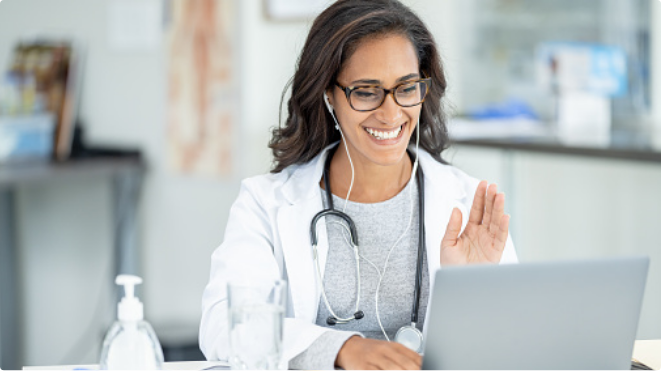 Navigate The New Virtual World
Follow these tips to help you effectively leverage technology and ease the transition into a more digital model of care.
Learn More
Related Resources
Need help trading complex medical terms for simple ones? Here's a list ...
Contact Us
Interested in our innovative health care services or in accelerating your career by working with us? Please reach out by filling out the form to:
Schedule a VIP meeting
Request a consultation
Speak with a clinical expert
Chat with a recruiter
Get in touch with a scheduler
Contact a sales representative